I have always been very found of the Empire/Regency fashion the elegant gowns that where made to be not only comfortable but very elegant, this was a time where ladies let there hair down and in some points quiet literally! In this time period they looked at the classical styles of the Roman Empire and the Greek world so came the classical period everything was Greek and Roman revival and good bye super tight stays and huge powdered wigs hair was put up in simple buns with little curls around the face...if that simplicity was in...But elegant simplicity! In France some women took the whole Roman Greek look to the extreme some French women went as far as to expose there left or right bosom, now of course this did not happen in strict England or Germany or for that matter anywhere else...Some things have always been able to pass in France where in the rest of the world would never go! This was one of those!Now not all ladies embraced the Empire/Regency styles some kept there stays and tight fitting clothing and powdered wigs like today..Not everyone follows every style that's in except unlike today the new styles of then where worth following!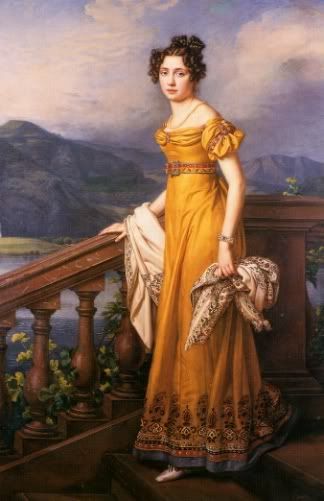 This is a painting of a lovely young lady Amalie-Auguste Wittelsbach...Side note who is related to me :) My name being Wilhelmina Carlotta Johanna Gräfin von Marquart Fugger Wittelsbach aund Arnim...So she is a distant relative and being a relative of mine she knows how to dress! This painting was painted in 1823 when she was just 22 and looking very fashionable I love her yellow silk gown with awesome embroidery I also love her shawl and jewelry :) And yes I want my relatives clothes!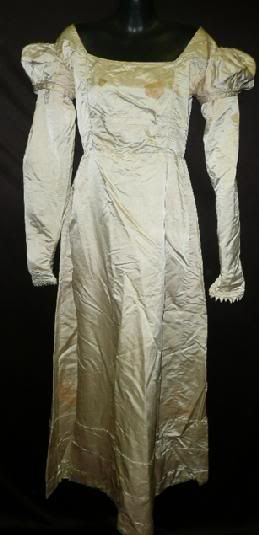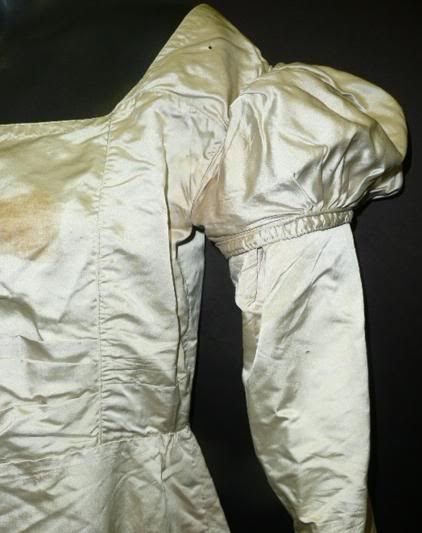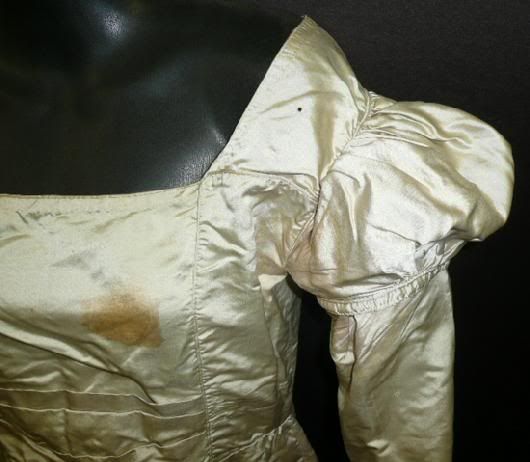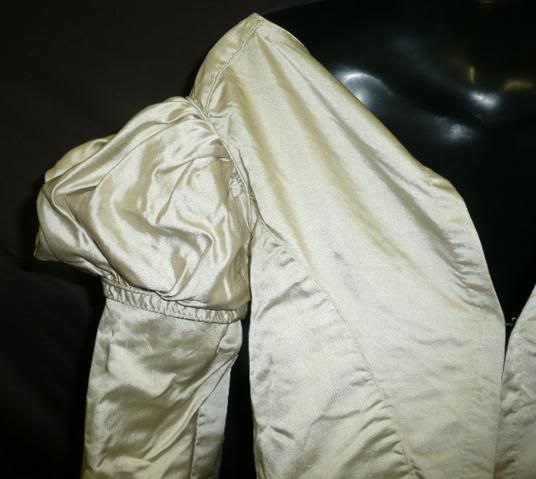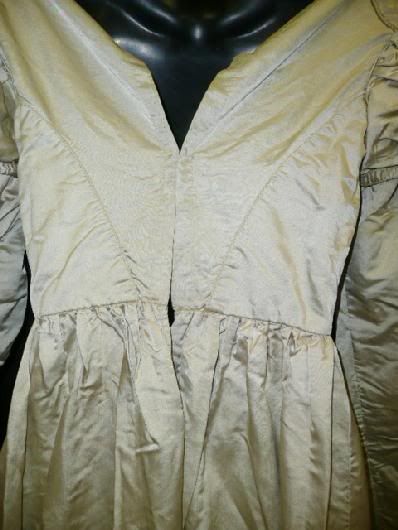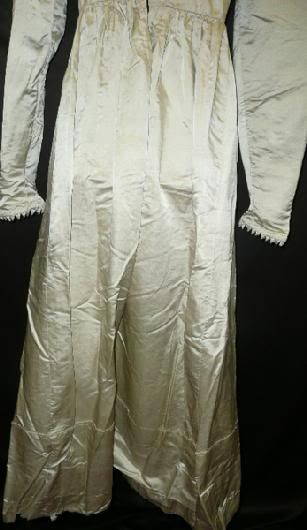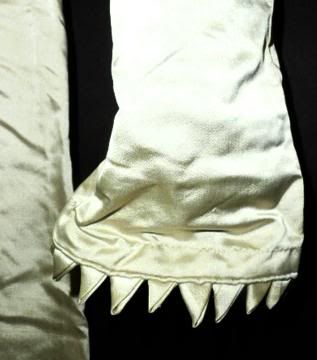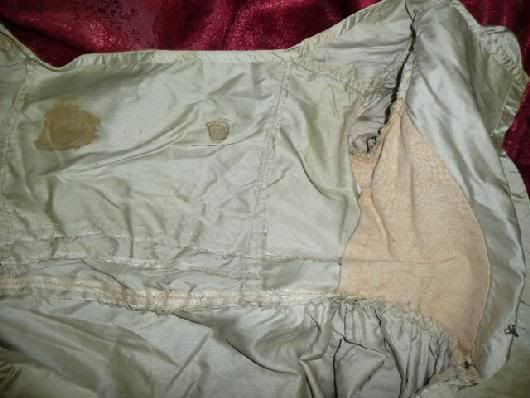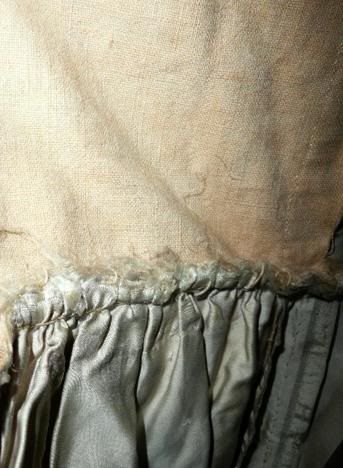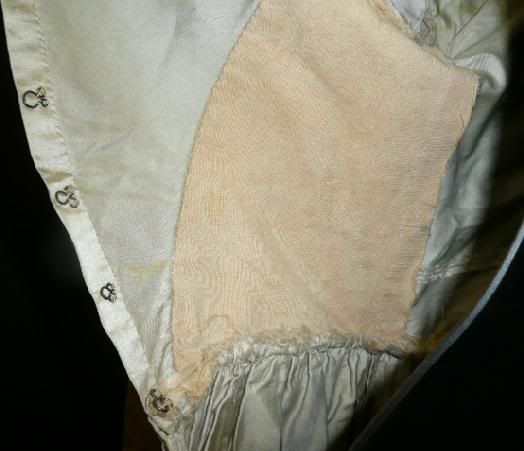 Wonderful white silk satin gown with awesome long sleeves I love the design so much, the gown has some problems but considering the age its in good condition so far this dress is from around 1815-18 and I would love to have it :)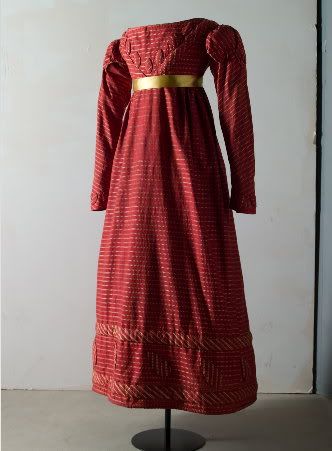 Awesome cranberry colored gown with lots of great workmanship this gown is in perfect condition, I wish I had more than one picture of it, but well its better to have one than none...This great gown is from around 1820-22...And yes I want it :)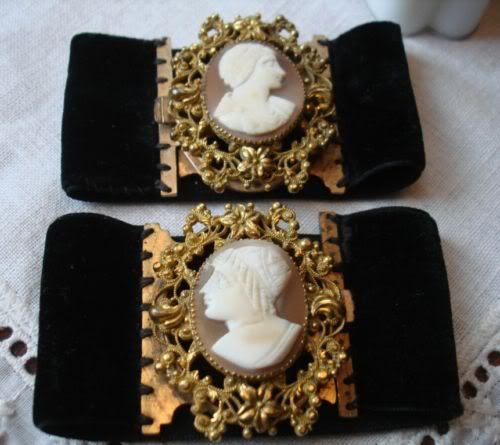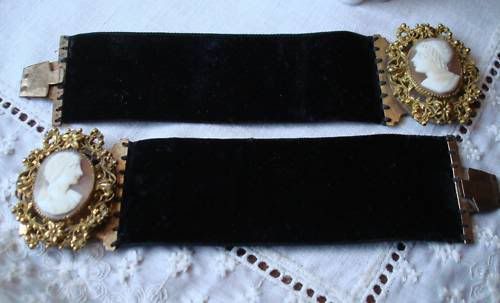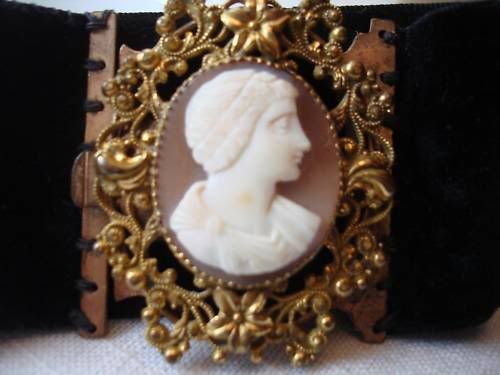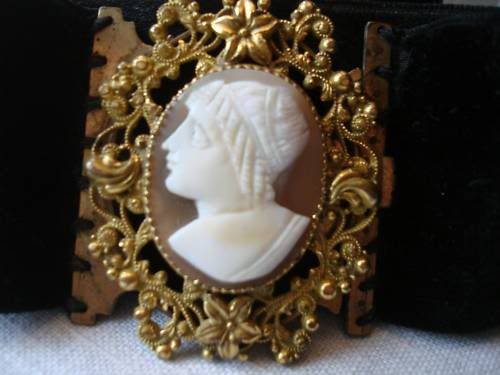 Wonderful pair of matching cameo and velvet bracelets that are from around 1815-25 and yes I want them :)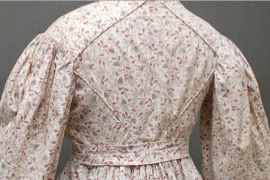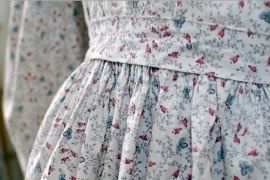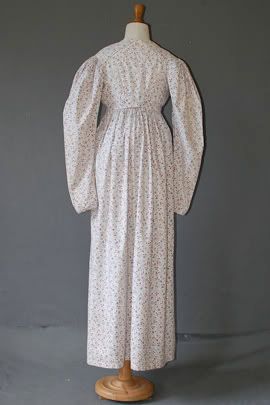 And what wardrobe would be complete back then with out a great calico dress? This is a great calico dress very charming and I so want it...Its from around 1805-12.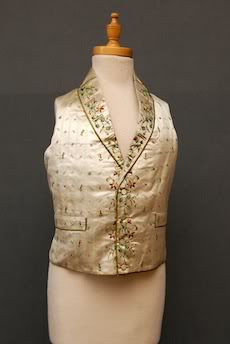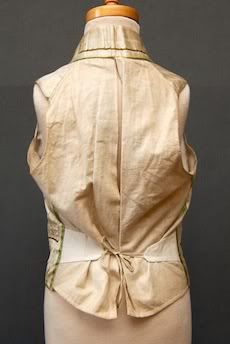 I know I often don't include mans clothing...It doesnt mean there where not great mans clothing back then...There where I just don't have as much as I do womens, but you have great mans clothing and especially back then this great mans vest is made of satin and is highly embroider it is a great piece of work and would have made any gentlemen look good back then...This vest is from around 1805-15.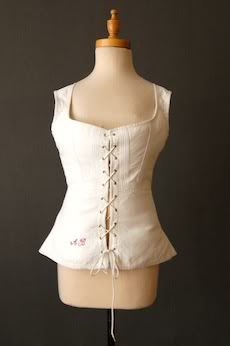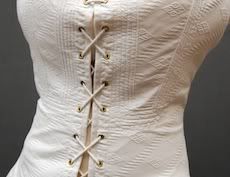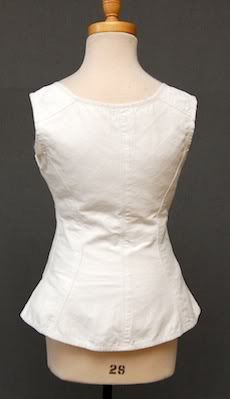 White cotton corset but this one is not heavily boned at all this is more for comfort. It has the ladies initials is embroidered on here it is A.B. Many women had there initials embroidered on there undergarments like stockings ribbons to tie the stockings with corsets shifts so on and so forth...This ladies corset is from around 1802-12.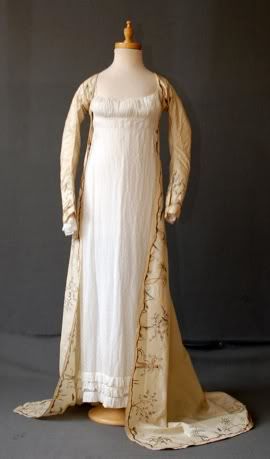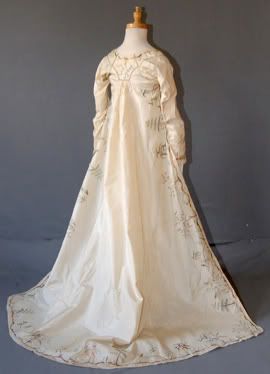 Two piece gown one is muslin one is stain which is embroidered with Cherubs and flowers this great gown is from around 1797-02..And you better believe I want it!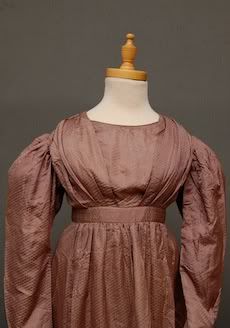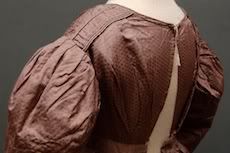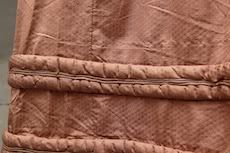 Wonderful rose colored silk gown this dress is just gorgeous and is from around 1823-27...And yes I want it! :)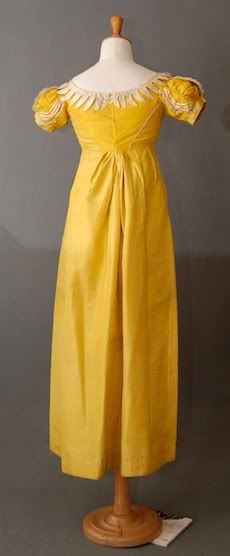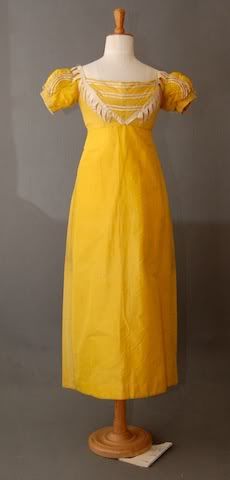 Yellow with white trim silk evening/ball gown this lovely dress is just full of detail and is still very vibrant dress is from around 1820-24, and yes I want it too :)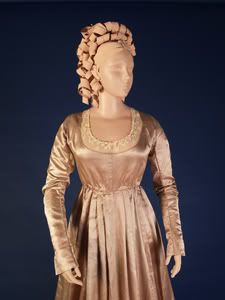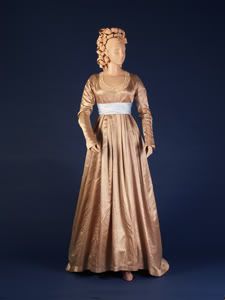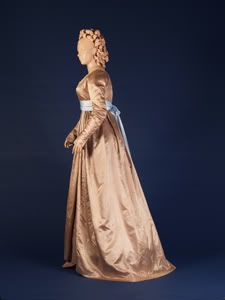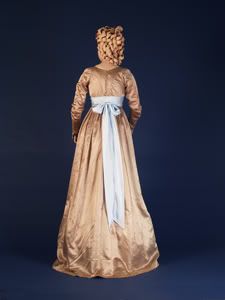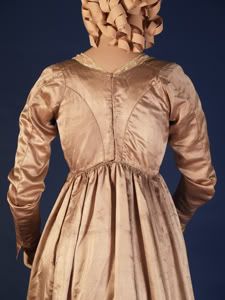 Another rose colored silk with light blue sash at the waist this great gown is from around 1795-98 and I would love to have this dress also!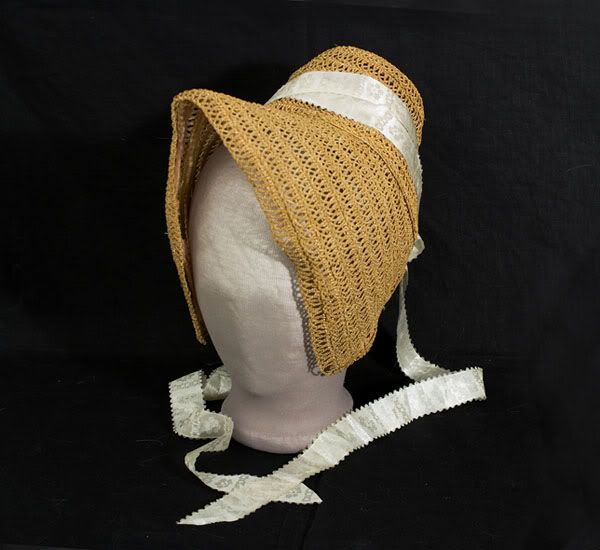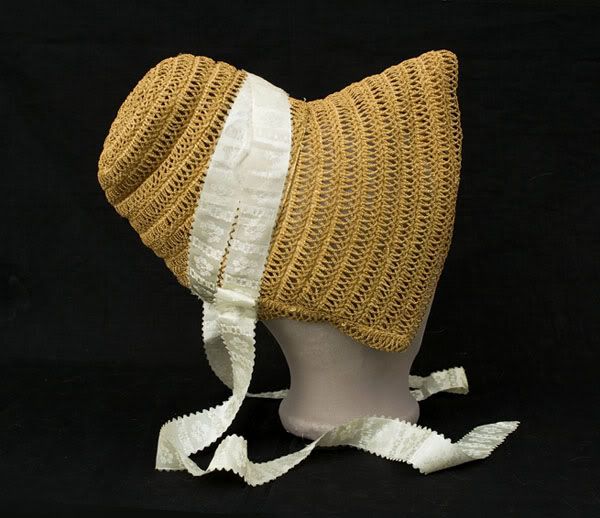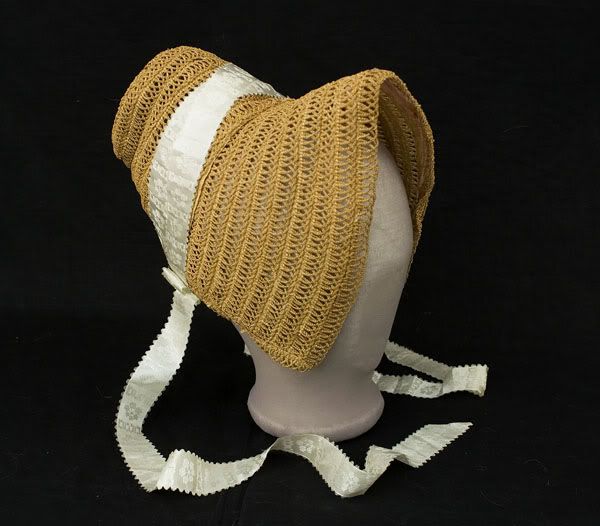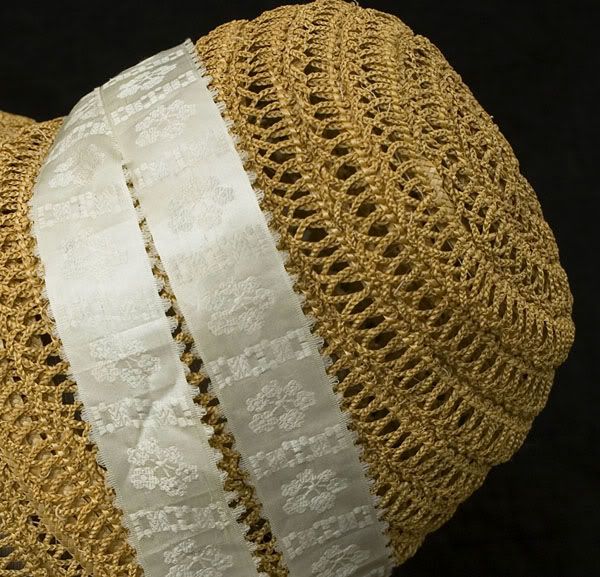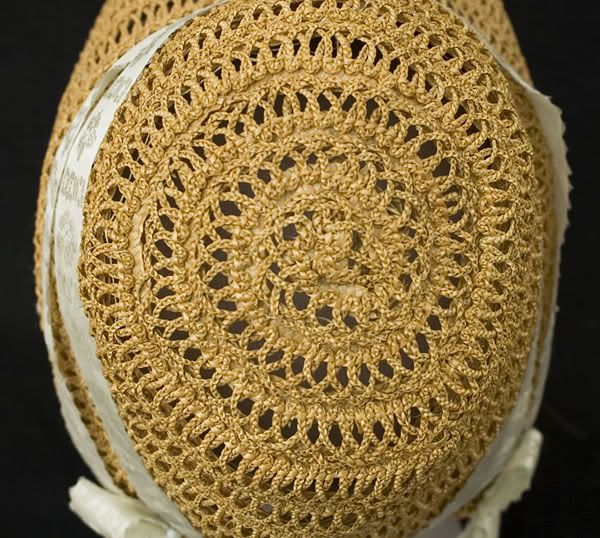 And what ladies wardrobe would be complete with out a lovely straw bonnet! This is just the bonnet 1800-10, and I would take that too.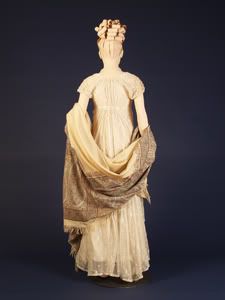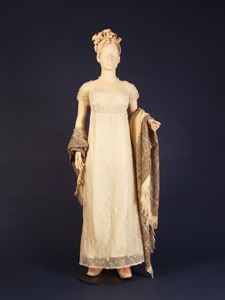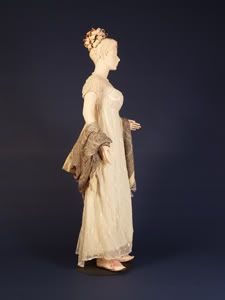 Wonderful muslin dress with gorgeous shawl this dress is from around 1803-07 and yep I want it too.
Well this does it for me today, hope you all enjoyed :)