We see so many styles and trends in the 1700's and great fashion! I especially love the brocades and gold and silver laces, actually I can't think of any of the styles or trends back then that I don't like, now granted I doubt I would wear a 3 foot wig, but I would wear one of the awesome wigs back then powered or not! But undoubtedly would have to have feathers and pearls in the wig that would be a must for me! Now I know I have said this before that I love the book "Revolution fashions 1715-1815" but it truly is a fav and more than that its one of the best books on "French 1715-1815 Fashions" So if you love 1700's clothing get that book!
Gorgeous beauty of the day this elegant lady is wearing a gorgeous red heavy silk and real gold thread for all the highly ornate embroidery work on this gown, the dress is also heavily boned in the bodice to give are lady a super tiny looking waist, I also love the large amounts of lace used at her sleeves this dress was made to be impressive and beautiful and it does all the above in my opinion! :)
Now this photo is from the book I was telling you about, I guess this gives you a tiny sample, enough of a sample to wet ones appetite I dare say? Now this book came out in the 80's but by no means is it out dated, and it has great real garments which are from the Kyoto Museum, which I really really want to go to...Now these two silk jacket outfits are from around 1788-90 and are in great condition and yep I want them!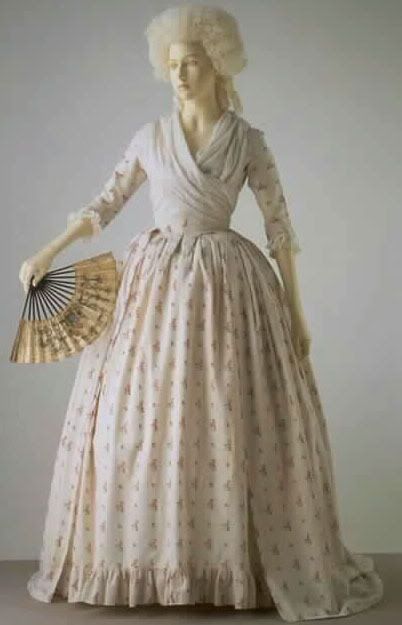 Awesome floral print gown, this beautiful day dress just encompasses beauty to me, this awesome dress is from 1787-90 and I wish it was mine, I also wish that I had more images of this than just the one, but like I have said before better to have one than none.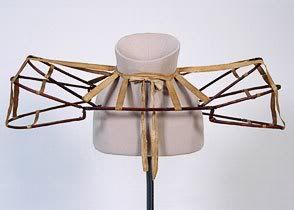 Awesome cane wire panniers petticoat this one is from around 1765-80, and what lady would be complete with out her panniers? Heehee :)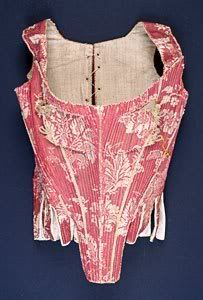 Pink and white awesome stays! I love stays and corsets and this one is so pretty I love the pink and white floral brocade and despite the age the colors are so vibrant, I guess they where not worn as much as some, some ladies only had one pair of stays and would wear them every day till well they fell apart and she would have to purchase another, but I m thinking the lady who owned these had more than one pair of stays was probably a very wealthy women so ie she didn't have to wear this one every day and that is why its in such good condition well that and the way its been stored for the last 240 some odd years.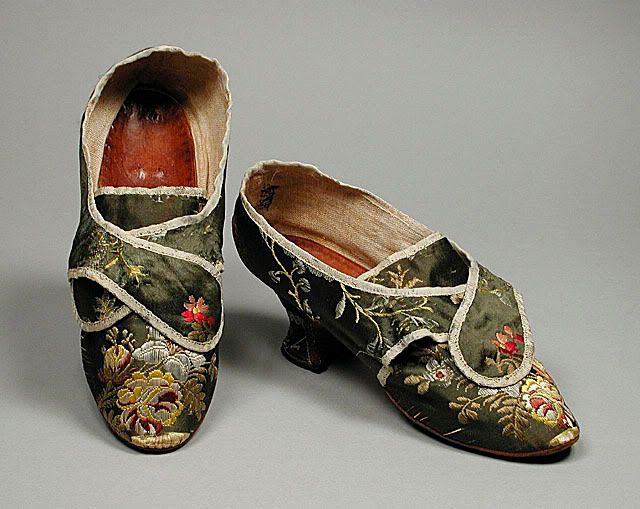 Wonderful pair of green silk brocade shoes now these would have been worn with either real jeweled shoe buckles or paste stone shoe buckles buying paste was a far cheaper way for are fashionable ladies to still look good but not spend all there money on real stones. These lovely shoes are from around 1745-60 and yep I want them too :)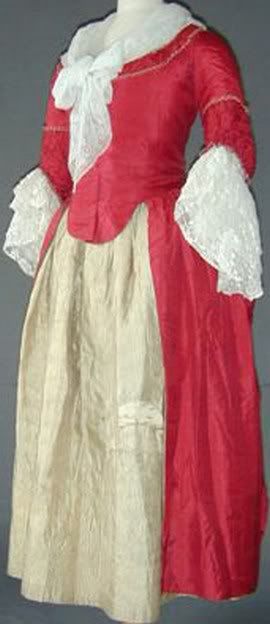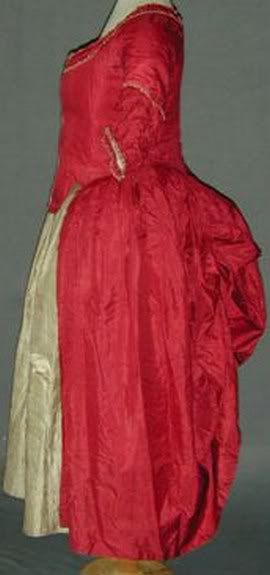 Awesome American made red silk and beige silk under skirt, this awesome afternoon dress is just wonderful ie well made and very pretty. Dress is from around 1770-80.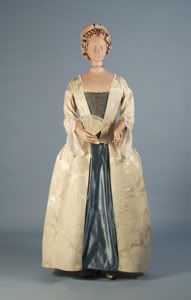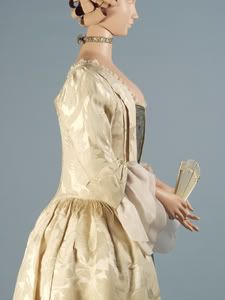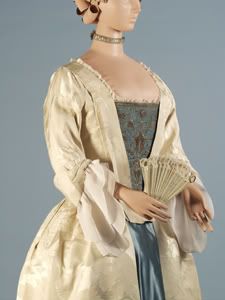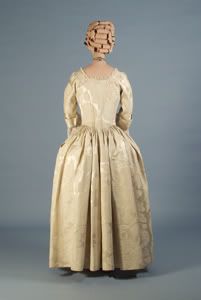 Another awesome American made dress of blue and white silk satin with awesome floral pattern stomacher, stomachers where a awesome way to mix and match and change your wardrobe up, it was a great idea and a way for a fashionable lady to make more outfit then what she had, I kind of wish we had these today heehee.
Well this does it for me today I hope you all enjoyed it :)