This is a picture of my grandmother with my uncle Billy as a baby in 1942, and as you can all tell my grandmother was fabulous and all so fashionable all my good taste in fashion jewelry and hats and shoes and make up come from this great lady, I owe so much to her, and its not because she left me everything it is because she was my everything there for me when my mother was too busy trying to make money she was always proud of me and she loved me a lot and I loved her dearly and still do, she was the very best person I ever knew and I love her still and wish she was alive, but as she was such an inspiration to me and to my fashion side and taught me so much I am having these post to impart wisdom of my grandmothers from getting good deals to getting stuff that is made well and will last, so now to post some sites of places where you can get a good deal and great stuff!
Now this website/catalog I have loved since I was a kid and have been buying from them for years now they have everything from repo clothing to shoes and home furnishing I love it, now not all of there clothes are historical accurate but a lot of it is, and some of it maybe a bit pricy but you know what its worth it, and it lasts really well so its worth it :) And I hope you all enjoy this website as much as me.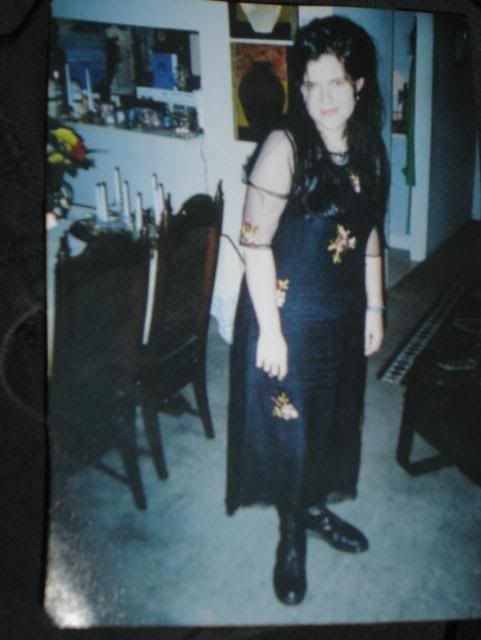 This dress was one of the first dresses I bought from them it cost me 165 and is a repo of a 1920's party dress made of black silk with black net over the silk and beautiful embroidery flowers that are all so pretty and I have had this dress since 2001 and it hasn't faded or gotten any hole or any wear on it, I m proud to say its a great dress and made very well, in this picture I am wearing some tall doc Martins from the late 1980's these lace up boots worked with this vintage styled dress just perfect this photo was taken thanksgiving of 2002.
Now this fabulous dress that I got from them they still cray so if you want your own they have it, I know when I first saw it and saw it was purple my favorite color I knew I had to have it, its in the style of a 1912-13 dress but made way shorter than they would have been for that year, this dress is made of purple silk and grey and lots and lots of lace I only paid 145 for it which is not bad, I wanted to post a few things that I had gotten from them so you could see.
Victorian Trading Co
Now of course I have to say ebay as you can get sooo many deals and great items, and if you love antique clothing then yes you have to check it out also if you love antique Jewelry, you just have to make sure the sellers have good feedback and not bad feedback, but for the most part eBay is safe and good place, and you meet some very nice sellers who for the most part will work with you IE if you need to do layaway just ask a lot of them will, also never be afraid to buy from Europe or India, and I have found the English will always tell the truth in a sale and never cheat you, now I have been cheated on there I bought a ring fro 1999 bucks had it on layaway and the lady just out right took my money and I never got the ring she also took my insurance money for it too, so not only was she paid once but twice thanks to the post office being dumb, shes still on eBay so I will worn you as I would hate for her to take advantage of you guys her sellers name is burgi-n
And for the most part she has good feedback but that little bit of bad feedback I should have paid attention to, but now I m warring you stay away from her! But even though I lost so much money with her I have made up and gotten good deals from wonderful sellers like "Maryefine"
Maryefine
who I have bought stuff from time and time again and her prices can't be beat and she will work with you and shes super nice and she from England and remember what I told you about the English...They never lie or cheat you, but since Mary has been such a dear to me and helped me so much I put her link on my page so check her out another trust worthy seller is nalfie they have a real antique shop
C.J. Antiques
And they like wise are from England too so no cheating, but now to good sellers in the US like Jkrantz
JKrantz estate jewelry
and fiddybee
Fiddybee antique clothing
who has amazing antique clothing for sale I have bought from her too,and now to my new friend on ebay Edna she has the best beaded appliques and as a lot of us on here sew its nice to know there is a place to find these wonderful things to make are dresses just perfect!
Edna
I figured I would list a few really nice and good sellers to help you guys out.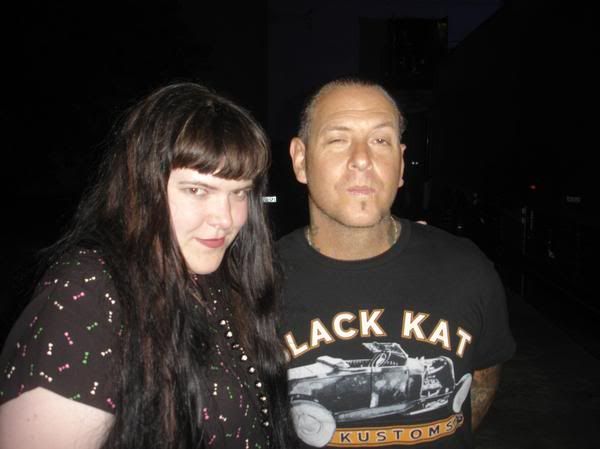 Me in an antique 1940-45 silk rayon dress of black with a bow pattern on it and I only paid 12 bucks for it on ebay thats what i m talking about :) This picture was taken in 2008 with Mike Ness of Social Distortion :)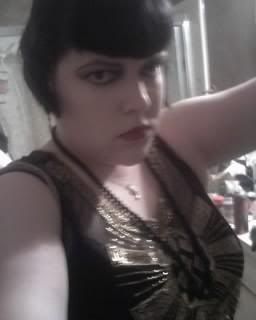 Another great deal this beaded dress which i got off ebay is all glass beads and a great repo of a 20's dress in the Egyptian revival style that was so in an the 20's I only paid 120 for this great dress, and the dress maker is LeLuxe and boy does she know how to make a dress I am lucky enough to own two of her dresses and yes I want more! I will make another post about her and her clothes but for now here is her link check it out
LeLuxe clothing
oh and don't worry guys I didn't cut my hair I just put it up in a way that it looks like its bobbed but nope its still long heehee this picture was taken in 2009, so anyway I hope this post will all help you either get good deals or things that are super memorable and if nothing else just damn enjoyable :)