Now I know yesterday I did not make a post which I m sorry I missed doing. and today I am making a small post but I hope it will be informative and fun, so lets sit back and just enjoy the 1600's :)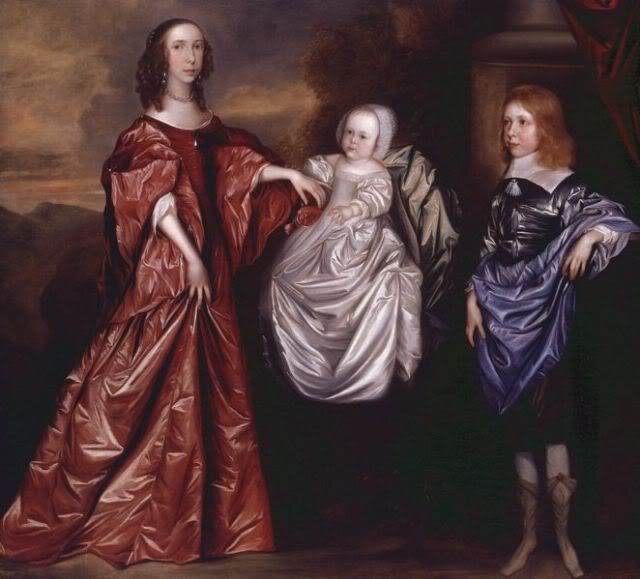 We have here a painting of the "Wharton" children painted around 1630-35 this is a great painting not only does it show the latest fashions but it shows you all what I was talking about the other day about how childrens fashion was just a miniature version of what there mother or father wore and we see the eldest child Elizabeth Wharton (Not the writer heehee but maybe a past relative to her?) Anyway Elizabeth is wearing a awesome red silk taffeta gown which is in the height of the fashion! With the huge puffed sleeves and tight long waisted princess waist now in the 1630's not only do you find the long waisted princess waist but you also see higher waisted gowns too, but this gown is the other and sadly the child is heavily laced in! I mean stays and lots of boning in the bodice, I can promise you this young Lady Elizabeth would have wanted to get out of this tightly laced gown to a more comfortable gown, but sadly parents could put there children in horrible uncomfortable stays that they could lace way too tight, and put them in dresses that where far too tight also, see I have no problem with a grown lady wearing this but a child no, and especially not that tight! But sadly Elizabeth is, now her brother is in a far more comfortable outfit being that he is wearing a blue silk satin breaches and shirt with white linen collar and fine kid leather white boots, and as to the baby girl who I am assuming is
Philadelphia who is wearing a white silk satin gown and is also laced in baby stays the bodice of the baby gown also has much boning in it too, so not much comfort for the girls there and a strange note is there father Lord Wharton was a Puritan! Yep I said it a Puritan but needless to say that did not mean he or his wife or his children where not going to wear the finest silks and satins out there, its the oldest story out there someone says one thing and does the exact opposite oh well.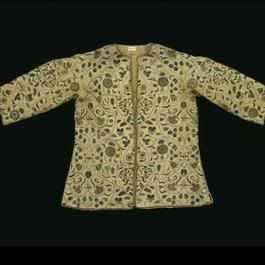 Wonderful highly embroidered shirt/jacket this great shirt is from around 1670-75 and could always be spruced up with lace or left to be, and it amazes me what good condition this is in considering its like 335 years old I would say its in damn good condition! And all so pretty, and yep you guessed it I want it :)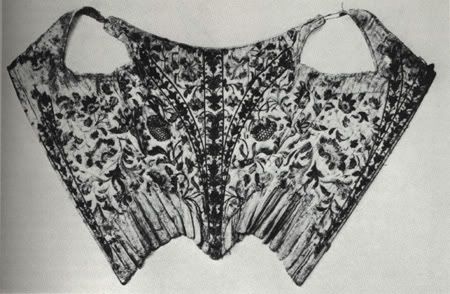 Heavily boned embroidered stays from 1690 these are awesome stays and also in very good condition its always hard to find stays in good condition considering that they where most often worn every day under the ladies gowns and often for years and years and most likely not washed too often, so when ever you find undergarments that have survived from back then or older is always hard to find and a rare gem so to speak.
Fine leather gloves with gold embroidery and red and gold ribbon and fine lace these awesome gloves are from 1640, and a side note gloves like these became very popular in France because of Louis the XIV but even before him it was popular item for men in the French courts ie the more ornate and extravagant the better especially to the French! And these gloves are extravagant and I could see the sun king embracing these, as he himself was very found of gloves!
Wonderful painting of Anne of Denmark who is dressed in the height of fashion in this great white silk dress with silver embroidery and lovely rosettes and a awesome lace standing collar which is just awesome this painting is from 1605 and shows you how in the beginning of the 1600's we see that fashion has not changed much at all since the 1500's but you see many trends in the 1600's and all very memorable from the huge puffed sleeves of the 1630's to the odd mantua style which is ok but still very memorable, and once again Wilhelmina gets side tracked heehee.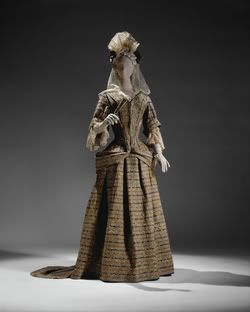 Now talking about mantua style here is a great example! This wonderful 1690-99 gown is in great condition and very pretty and yep I want it! This great dress is in wonderful condition and is all so pretty and with lots and lots of lace, lace was something that was highly prized and very expensive it was up there with jewelry prices its hard to imagine it now when lace is so readily available and for the most part cheap but not back then oh no! It was quite the opposite so when a lady had pieces of lace they where highly prized and taken very good care of, a lot of women had detachable lace only buying a few good piece that they could interchange with there outfits, because getting there dress makers or seamstresses to put the lace on each of there gowns would have been far too costly! So most women had a few good pieces and would wear them accordingly with all there outfits, so a little side note there.
Anyway I know this was a short post but I truly hope it was informative and beautiful to look at too :)