I love the 30's fashion all the deco styles its just great so I thought I would make a nice post and try and make up for the last two days.
Awesome photo of a beauty of the day in a really smart looking black dress with a criss crossing of the fabric in the front this ultra modern dress needs great accessories and its got it! With this awesome hat! Photo is from around 1937-39.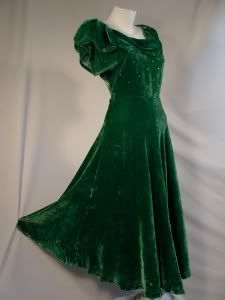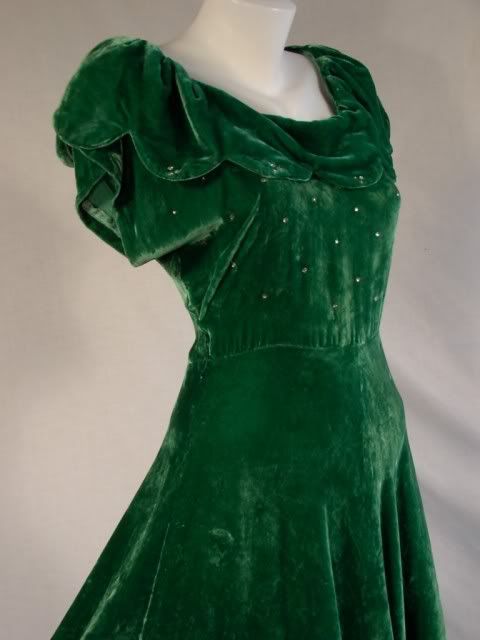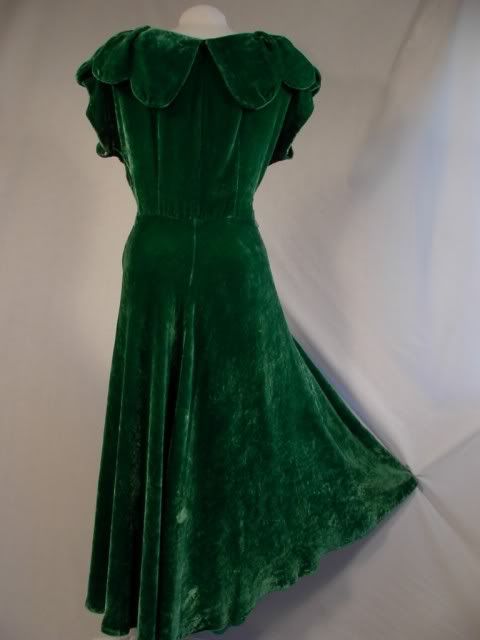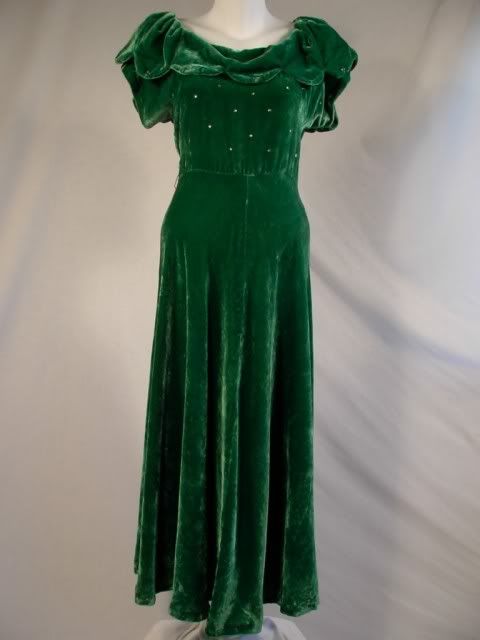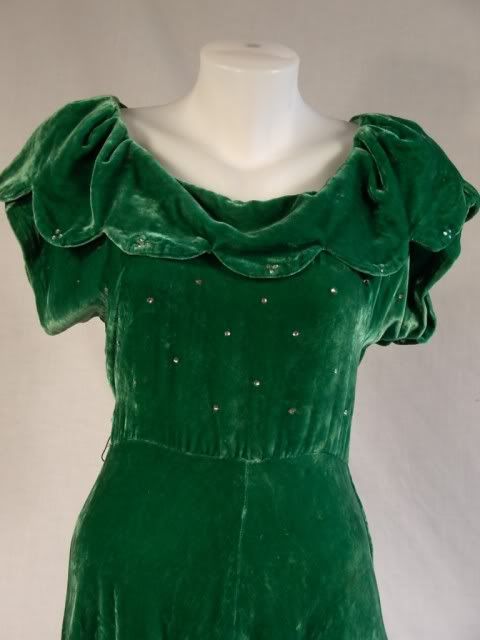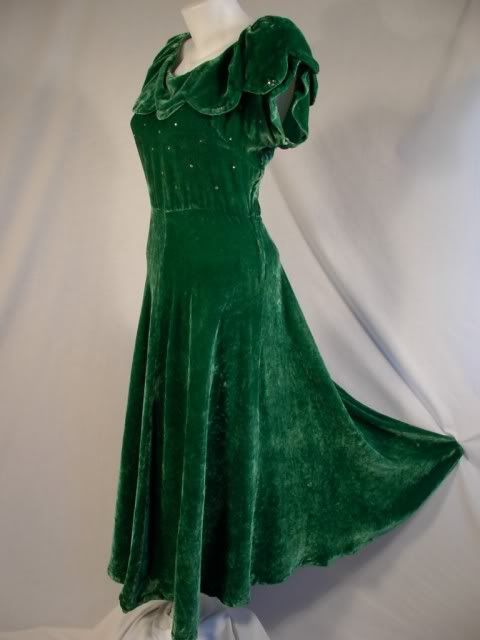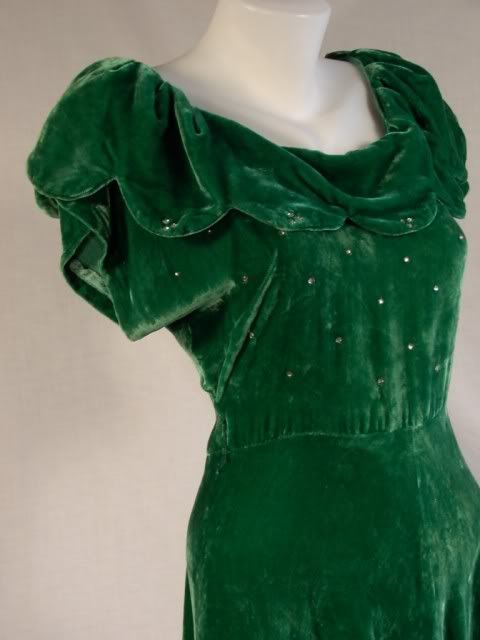 Lovely long green velvet gown with rhinestones this dress is just awesome and yep I want it! Dress is from 1936-38.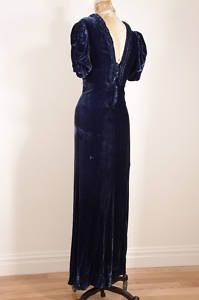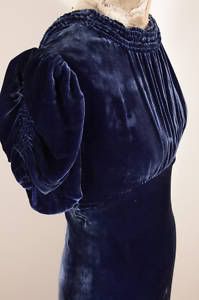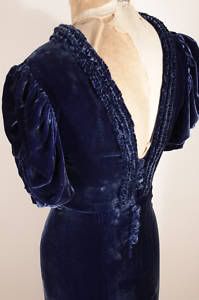 Awesome midnight blue velvet evening gown with huge shoulder pads! Now normally I hate shoulder pads I grew up with seeing too much of it in the 80's as a kid and I hated it in the 80's! But some how the 1930's and 1940's shoulder pads are different they seem to have a stylish twist that the 1980's never ever had, so to make a long story short I like this dress! This dress is from around 1935-37.
Wonderful pink lace gown this awesome dress is from 1933-35, and would be worn with an under slip dress.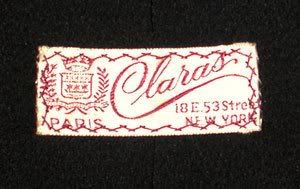 Wonderful long black silk rayon suit dress with wonderful glass beads and sequins, this awesome dress from 1938 belong to Mrs. Ray Bolger. Ie Gwendolyn Bolger who was married to Ray Bolger who was a famous actor in the 1930's most notable role was as the "Scarecrow" in the "Wizard of OZ" So this very awesome outfit belonged to that lovely lady :)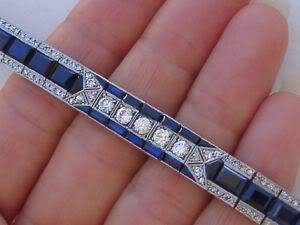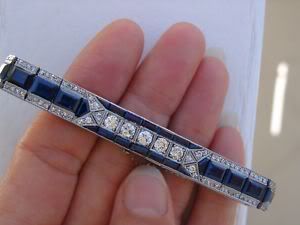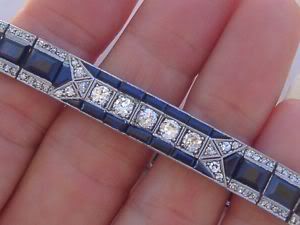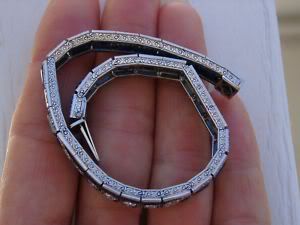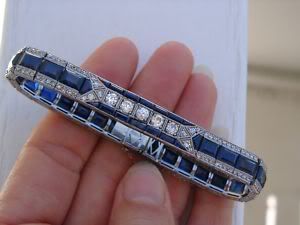 Awesome awesome platinum and diamond and sapphire bracelet from 1930-35, and its still very much in the deco style, which I love! And I love this bracelet and wish it was mine! Now one great thing about platinum is its very heavy duty, like you can swim in it and keep it on you can use all kinds of cleaning products and you don't have to worry oh no I got bleach on my ring or oh no I got ajax on my ring! It will be ok, now with gold jewelry I highly recommend you take it off before cleaning the bathroom or house! And don't go swimming in it as it will hurt the gold maybe not at once but after time the chlorine will attack the gold, but Platinum its like Super Man hardly anything can damage it! Now I know for the most part it is expensive, but if you look like on ebay or at pawn shops you can find some good deals! Cause truth is you wont find a good price for platinum at an Antique jewelry shop or any retail shop, so if you don't want to pay a arm and a leg for it, I suggest you try ebay or pawn shops, just stay away from the seller "Burgin" they will cheat you I got cheated out of 1990 no bs, and I would hate to see any of you lose that kind of money!But hey just use your heads while on ebay, look at feedback, and remember what I have said before, I have never been ripped off from sellers in England ie the UK is the most trust worthy place to buy from.