I was determined to make a post despite I was at the hospital for like 5 hours ugh! I wanted to do one on Empire/Regency fashion as one I love that time. I love the high waisted classical styles whether they where trying to imitate the Roman Empire or Classical Greece, you are left with some awesome styles. I remember when I was a kid and I first started learning about Empire fashion apart from my Kate Greenaway paper doll set. If you know about the artist Kate Greenaway you will see her illustrations are all very Empire/Regency inspired and well, you just have to love it. As I have said before I got into antique fashion from a very young age. I knew I loved the styles and wanted to know more, it wasn't enough to have paper dolls or dolls in lovely historical outfits, I wanted to know more about it and also have my own! Now on a side note, the best fashion paper dolls are made by Tom Tierney. I still buy his stuff today, he knows his fashion and is a good artist. I will have to make a post about him at some point, but back to what I was saying I got into fashion as a kid. Not the 80's fashion I grew up with but the fashion of the past. I got some great books on Empire/Regency fashion and I remember reading that when the French Empire fashion came in style in Paris, some took the whole Roman/Greek style to historical extremes. Some women in Paris would have one breast showing like The Romans or Greeks, yes a bit extreme and daring... I can say I couldn't do it, but the French have always been more daring in fashion than anyone else. You couldn't see the English doing that now could you? Well Thought I would add that history fact, now to the clothes :)
Wonderful painting of Empress Josephine who was a very beautiful lady and much a trend starter! :) And everything Josephine is wearing is grand from her green velvet and white muslin dress with cameo belt of her and Napoleon in the cameos, which heck I think is pretty neat and all her jewelry is so beautiful I love the diamond and cameo crown and tiara hair comb, this maybe a bit over the top but wow in what a wonderful way to be over the top!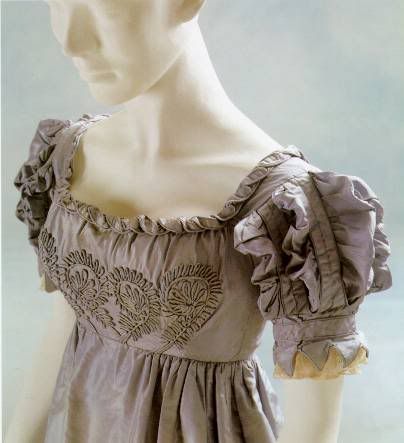 Wonderful ornate purple silk dress this dress is from a book I have, and now I m having a brain fart, and for the life of me I can't remember the title of the book, and I m too tired and worn out to go grab the book, but if any of you really need the name of it I will go fetch the book from the other room, just not today, a hospital can wear you out let me tell you! But back to this great dress its a beautiful purple with lots of detail, gown is from 1820 exact! And yep I want it, I wish I had more then this picture but that's it sigh :(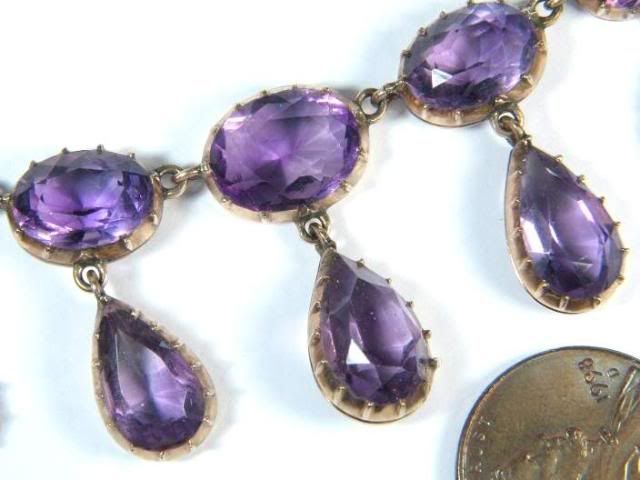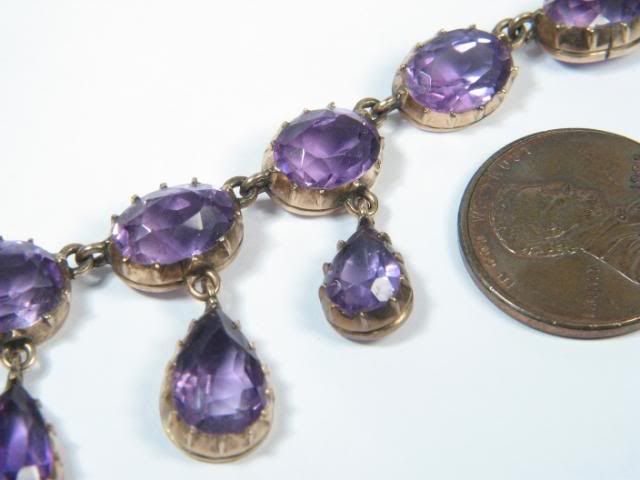 Awesome gold and amethyst necklace from 1800-1820 this necklace would be perfect for the dress up above don't you think? And its all so pretty and I so wish it was mine, I have a extreme fondness for amethyst jewelry as it is :)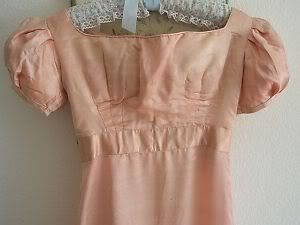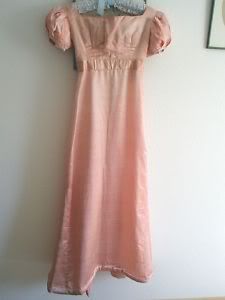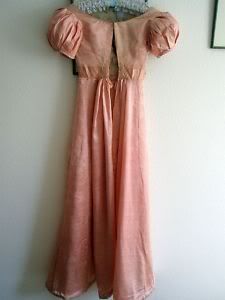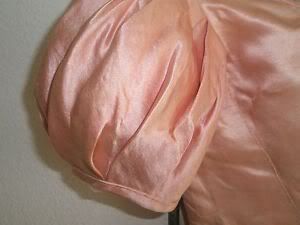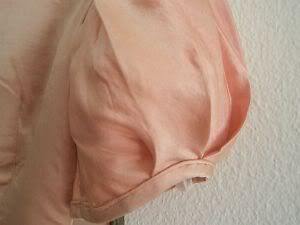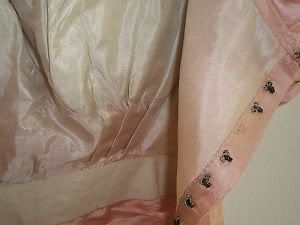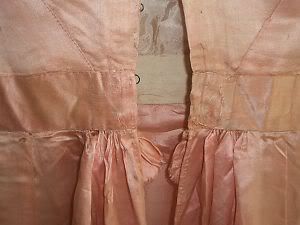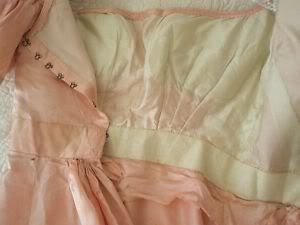 Lovely simple light pink silk gown from 1810-15 this great dress is in pretty good condition the hook and eyes where put in probably in the 1870's, as a lot of times older gowns such as this would be re worn especially for fancy dress parties or even used in theater, and as we all know hook and eye closers is far better than just string ties which this most likely had.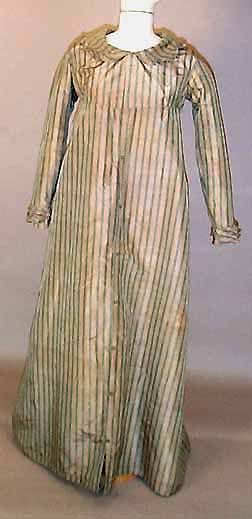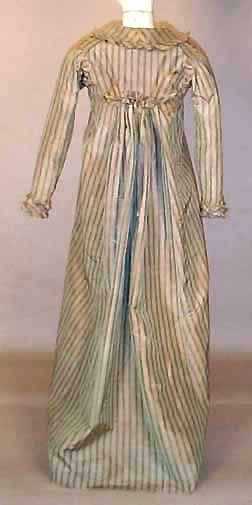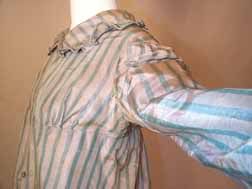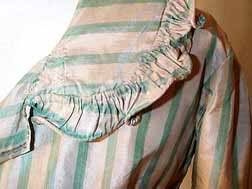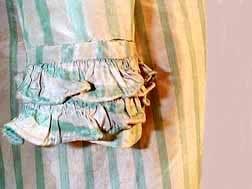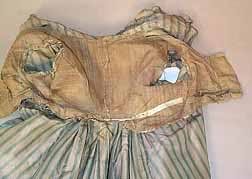 Really great white and green stripped day dress, I just adore this great 1808-12 dress :)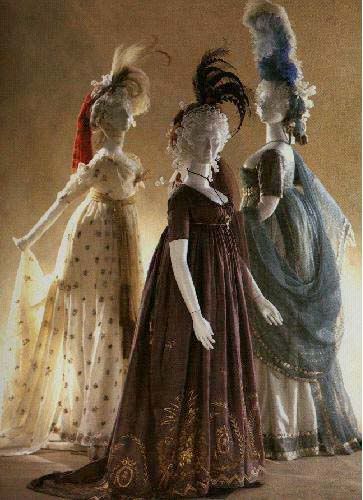 I so love all three of these great 1795-98 gowns, and yep I want them all especially the purple silk drugget gown which is highly embroidered ah what gorgeousness these gowns are from the book Revolution Fashions, which is one of my all time favorite books, if you don't have it you should try and get it, truly and you will be glad you did it :)
Well I wish I could post more, but I m just worn out so goodnight to all and to all a goodnight heehee and I promise to make up with better posts later this week, when I m not so worn out.