Today I thought I would make a nice post about the 1930's and have some really great images, so I hope you all enjoy it :)
Wonderful hand colored photo of a beauty of the day, shes all decked out with dark red lipstick which was called back in the 20's bee stung lips as it give a really dark red color that reminded people of a bee sting so that's how that lip sticks got that nick name,she also has lovely black eye liner and mascara and penciled in eyebrows this elegant lady is up with the styles of the day from her make up to her marcelled hair , this photo was taken around 1930-34.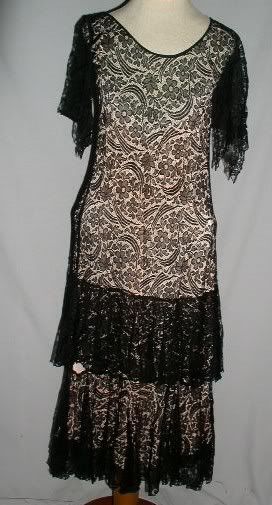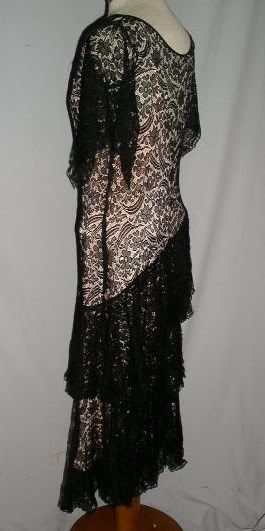 Wonderful black lace dress this highly laced dress, it is so gorgeous I love it dress is from around 1936-38, this dress to me seems to have a Spanish flair to it, which I love and I wish this dress was mine :)
Gorgeous black silk satin evening gown I love this slinky dress and how the open back has these wonderful sexy straps, and see to me this is a sexy gown although it does not show off all of the body its just perfect and one needs not show off everything to be sexy and this dress shows what I mean, wonderful gown from around 1932-35, and yep I want it! :)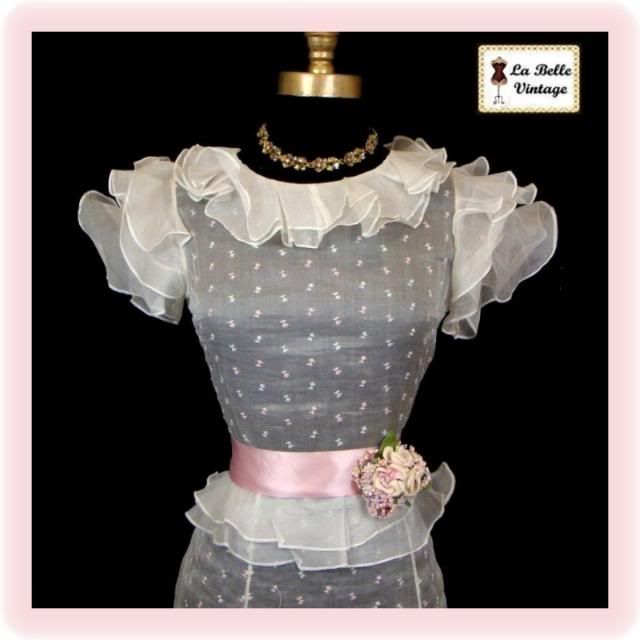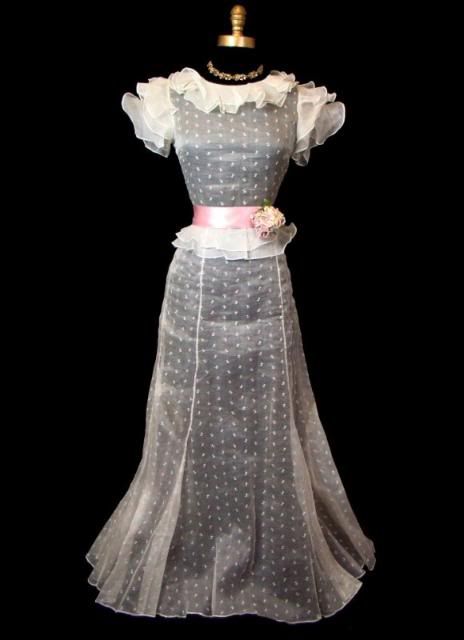 Wonderful white muslin dress with ruffled lace and awesome embroidery of bows of light pale green and light pale pink and gives the look of a pattern but make no mistake its embroidered, I really love the pink satin ribbon at the waist with the silk flowers it gives a look of innocence and reminds me of something to be worn at a picnic or tea or a birthday party, this great dress is from around 1935-37, and yep I want it :)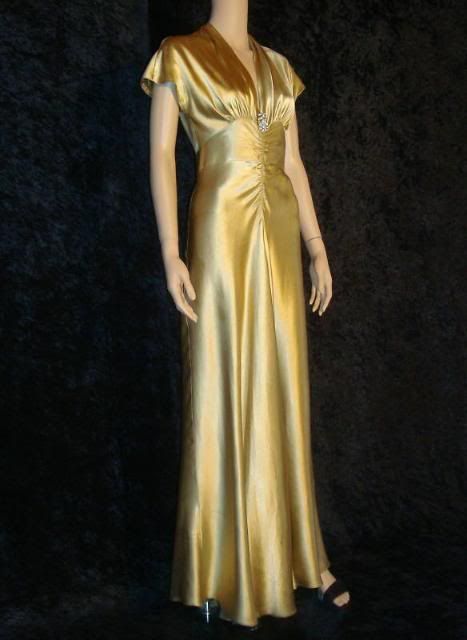 Wonderful gold lame gown, this dress reminds me of something that Carole Lombard would have worn or my favorite girl of the day Jean Harlow would have worn I just think this dress is just great and shows real glitz and glam so to speak, this wonderful dress is from around 1934-36 and yep I want it too :)
Wonderful gold lame shoes these are just great :)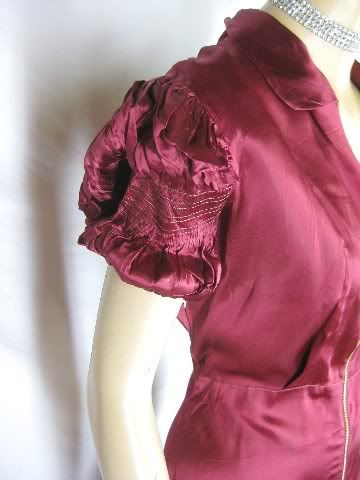 Wonderful burgundy silk with awesome puffed sleeves and it zips up in the front which I find very unusual I think this is the first dress from the 30's that I have found that did have a zipper in the front most dresses back then zipped on the side or in the back or it buttoned some people still even used hook and eyes but zippers had become popular in the 30's of course you see them far more in the 40's, but anyway back to this dress it is a great example of a new style in the 30's and like I said this was the first one I ever saw like this, dress is from around 1936-39.