I think I will make some other posts of what I think some of my favorite characters from my favorite books would have worn, anyway it's a way to pay homage to these great real garments from the time and honor some of my favorite characters from books, so I hope you enjoy~
but take care not to smile at any part of it… from weathering heights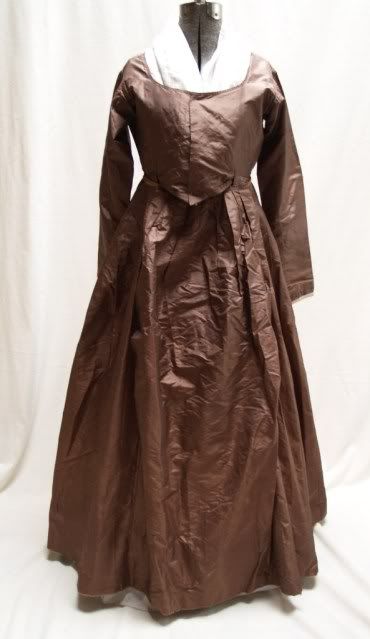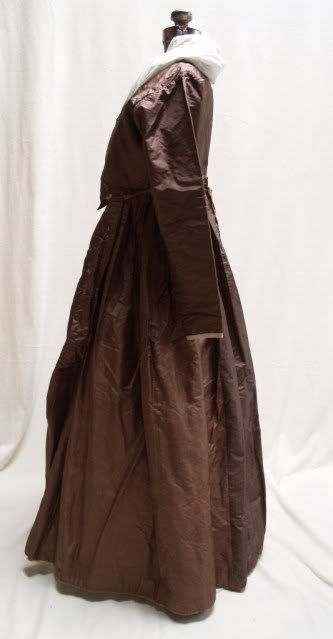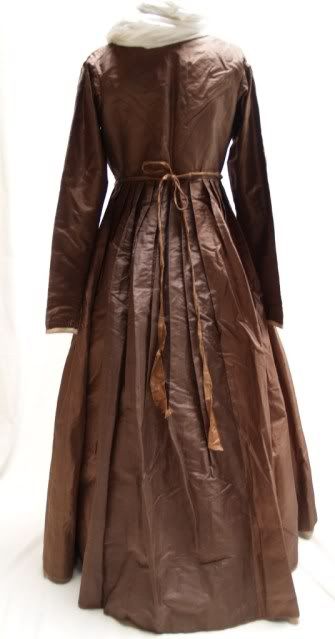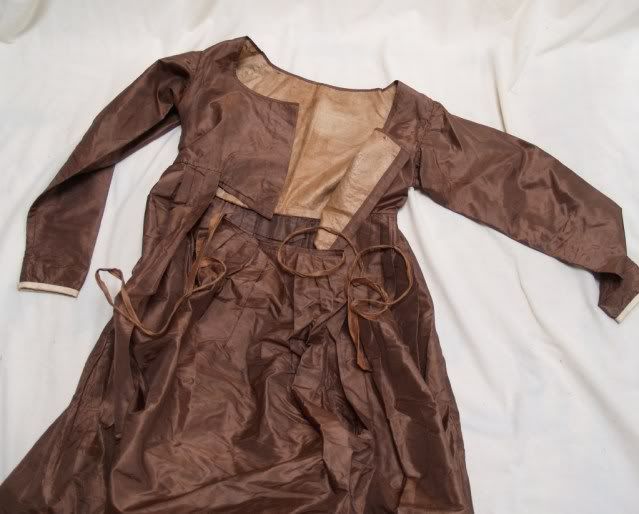 Wonderful brown silk day dress from around 1780-85,and I think this dress would have been perfect for Catherine Ernshaw as the book starts off in the past set in the 1770's when Cathy was a child, so this would have been a perfect dress for her as a young lady.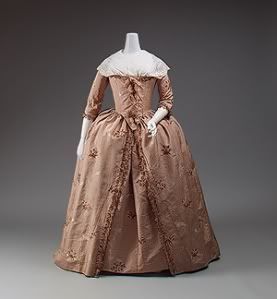 This would have been Catherine's best dress one she would have worn to church and parties, this dress was made around 1770-74, but as older dresses where still worn back then Catherine could have worn a dress just like this, great pink silk .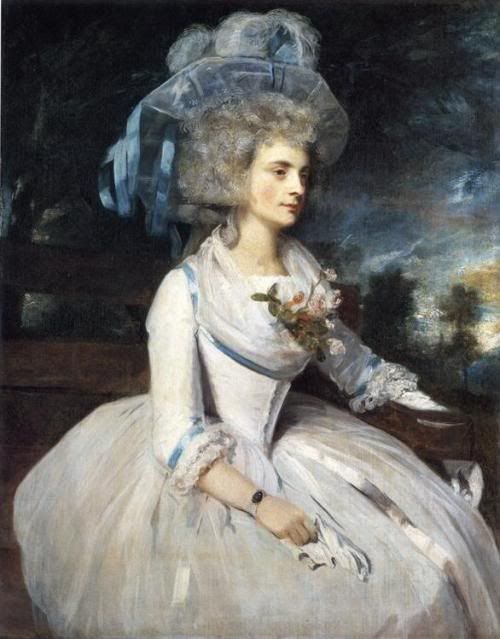 A painting of a lady in a white muslin dress with blue trim and fine lace and big picture hat, I could so see Cathy wearing this after she married Mr. Linton as she would have had the very best clothes and shoes….Painting is from around 1780-87.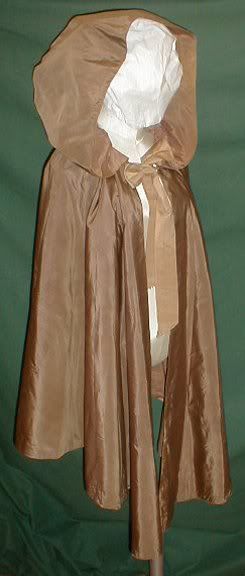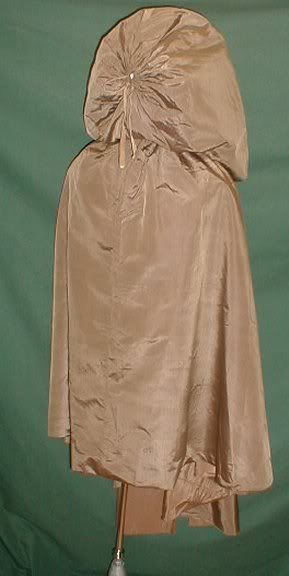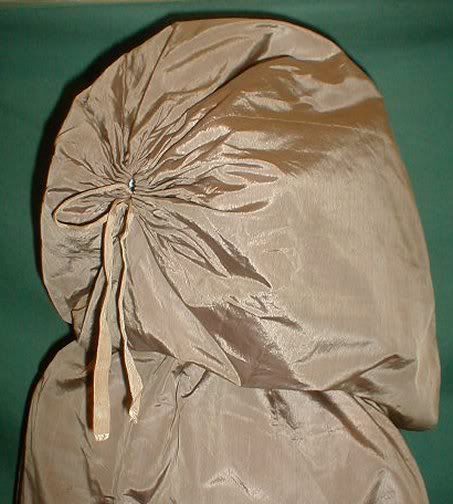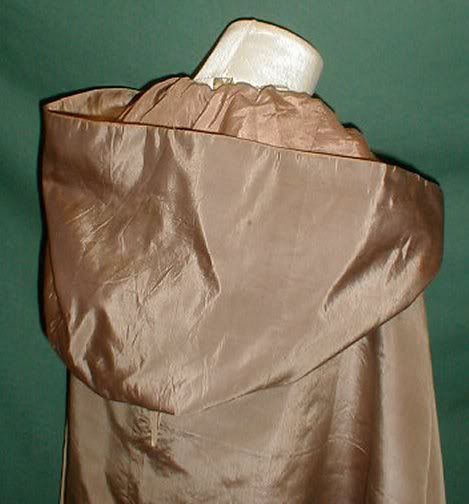 Light brown silk cloak from around 1775-84. I could so see Cathy running off on the moors in this or running to go see Heathcliff in this cloak.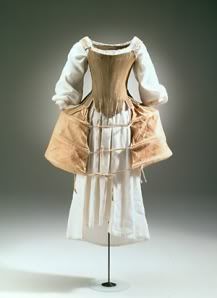 Now Catherine's undergarments, stays panniers petticoat and stockings underwear from around 1765-80.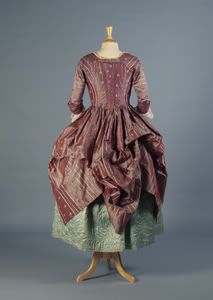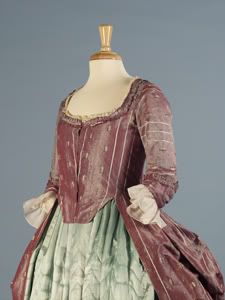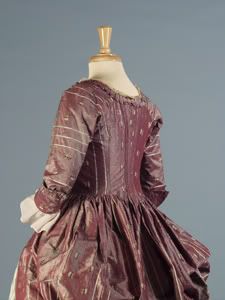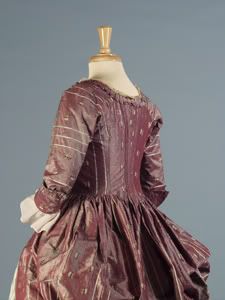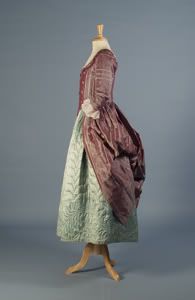 Wonderful purple silk brocade with light green brocade skirt gown is from around 1778-83, I just think this wonderful gown would so be something that Catherine would wear.
Now Catherine's daughter Cathy Linton and her fashion of the late 1790's to early 1800's.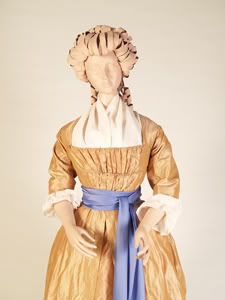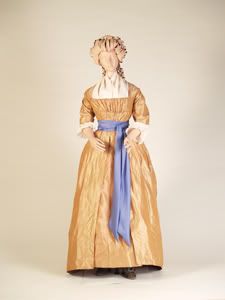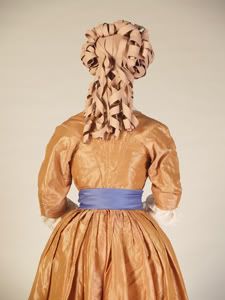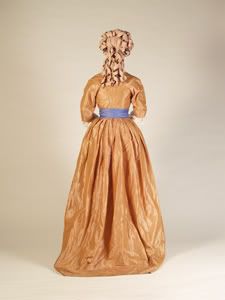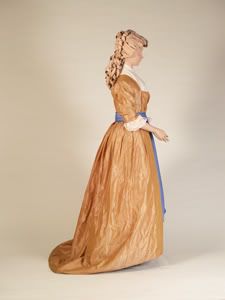 Light orange kind of color linen dress with a blue silk ribbon at the waist, dress is from around 1790-96. I so think this is something young Cathy Linton would have worn.
A painting of a lovely young women from around 1806-10 she wears a lovely white linen dress, and I so could see young Cathy wearing this as she walks about talking to her cousin Hareton.
Lovely white lace muslin dress from around 1800-04.
And that is it of the dresses I would give the two Cathy's :) I hope you enjoyed this to.