This post will have some lovely spring dresses or skirts or shirts or hats all from the 1600's to 1780 I hope you all enjoy this super last day of spring post :)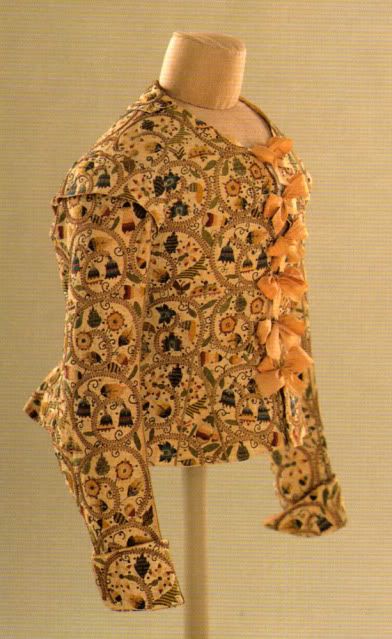 Wonderful embroderiedy shirt with silk ribbons from around 1615-25. This lovely linen shirt with all this embroidery is from the Victoria and Albert museum, I have posted a similar shirt from the 1610's on here before it was also form the Victoria and Albert museum.
.
Ah yet another dress from the Victoria and Albert museum ah I love them! Ok this wonderful heavy silk dress with beautiful floral pattern and a wonderful lace stomacher and fine lace at the sleeves and a wired lace fontange, this wonderful gown is from 1690-99.
Now to some paintings of ladies from the 1600's :)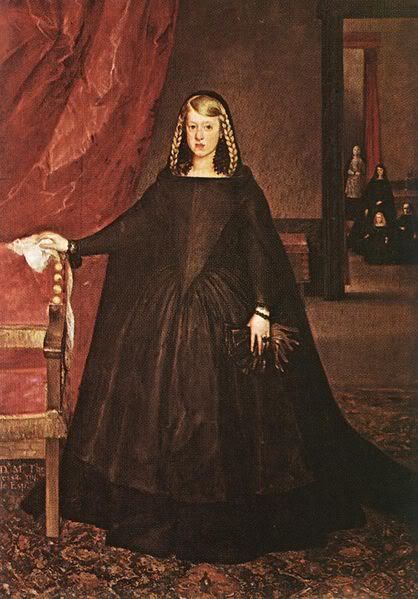 Wonderful painting of Margaret of Austria in a lovely black silk and linen dress this gown is still very reminiscent of the 1500's very Tudor/Elizabethan looking but just right for this little girl, this gown is from around 1600-10, I know its not very spring like sadly but I had to add it in.
Ok this one will make up for the black dress up above, painting of Anne of Denmark 1605 this dress is very grand and very spring like with the white silk and silver embroidery and remember they used real silver back then wow :) Lots of pearls draped on this dress and lovely rosette ribbons of pink and blue and tight princess waist and lovely high lace collar this dress is just grand and very Elizabethan if you ask me, her hair is piled high a trend queen Elizabeth started and has a jeweled hair ornament.
Wonderful painting of a beautiful girl named Susanna Huygens in a 1630's white almost silver satin gown this gown just shines luxuriant fabric with fine lace low cut with ruffles and fine princess waist on this lovely gown.
Ah another dress with super puffed sleeves this dress is all so 1630's I love the peach colored silk and the princess waist, this dress is just gorgeous, and what a lovely lady too :)
Now to the 1700's, I just love this time in fashion, now don't get me wrong I love the 1600's just as much, but I hope you will enjoy this post with all the spring time clothes :) And like I said some will be long some will be short but its all worth it to see such loveliness if you ask me.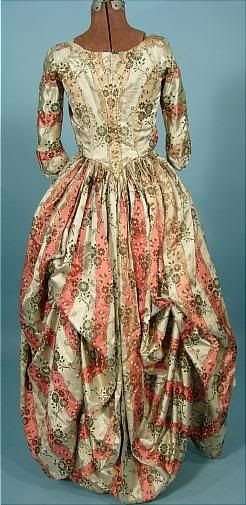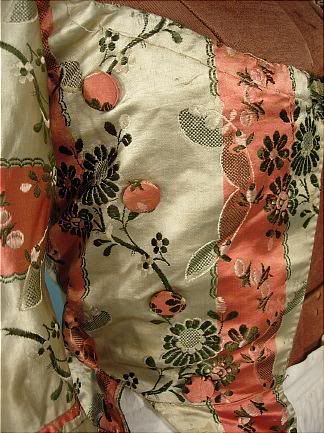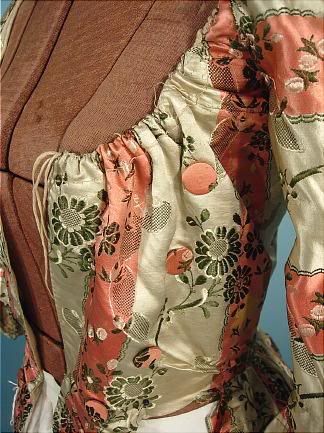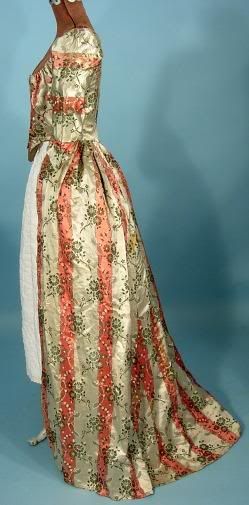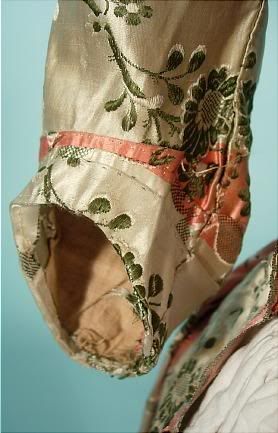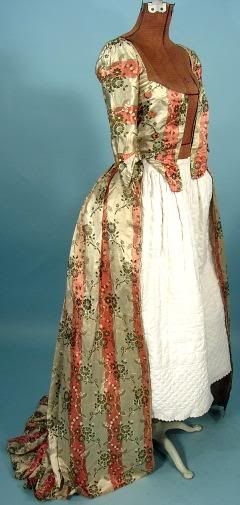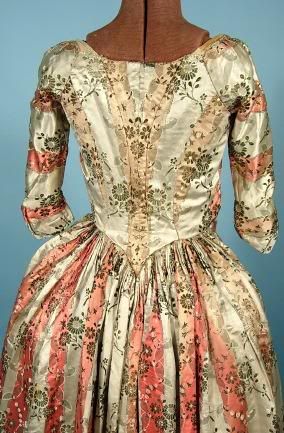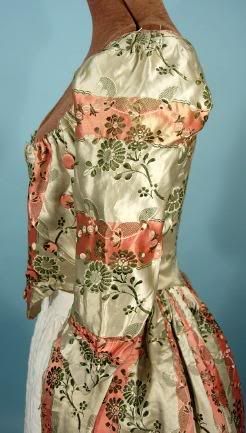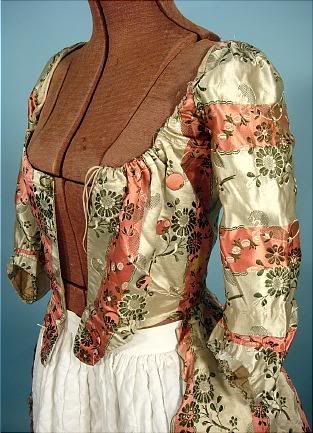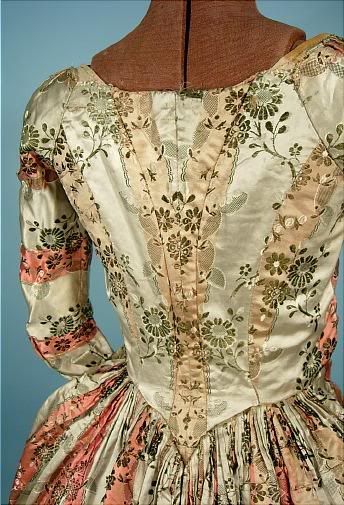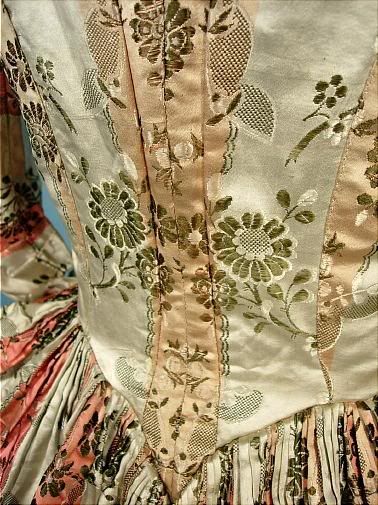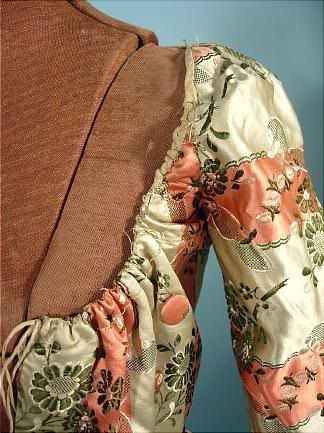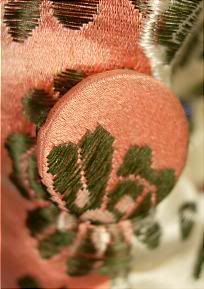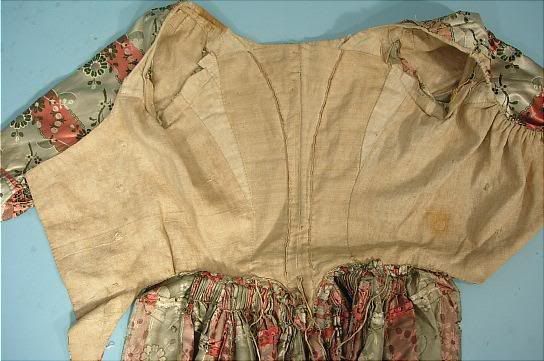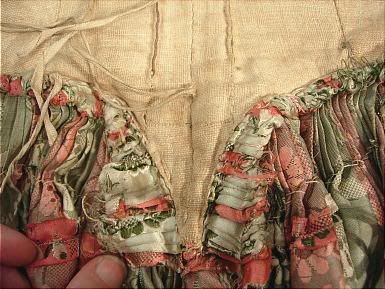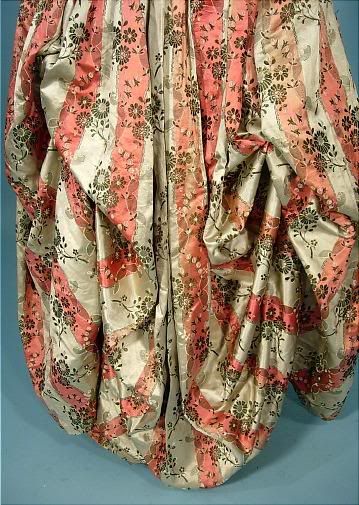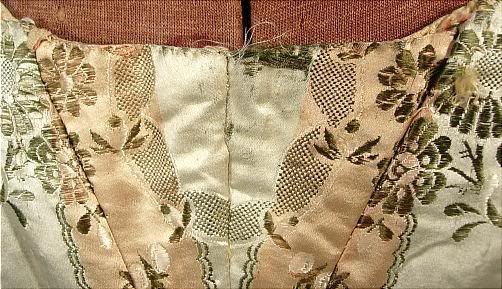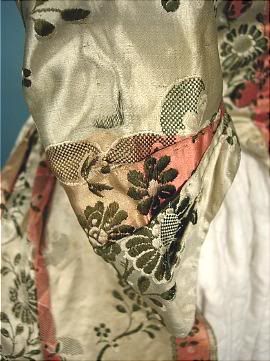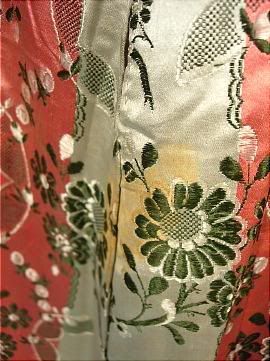 Lovely brocade gown of cream colored and pink stripped silk with wonderful green and white floral design this gown is just spectacular its from around 1765-75. and is in great condition now sadly its missing its stomacher and under skirt but we can imagine they where both equally beautiful :)
Wonderful light blue silk dress with wonderful floral pattern, sadly this one is also missing its stomacher :( But its still a beauty dress is from around 1760-70.
Green brocade satin gown from around 1758-65 sadly it also is missing its stomacher :(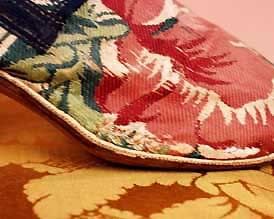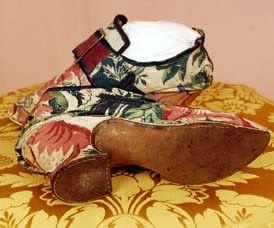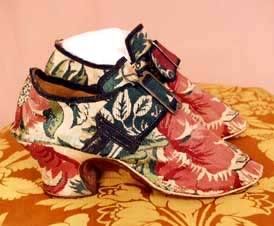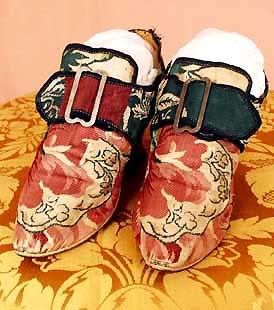 Ok could not help but put a pair of fabulous shoes in and hey you have to admit they look super spring time like Wonderful red floral brocade shoes with black trim shoes are from around 1760-70.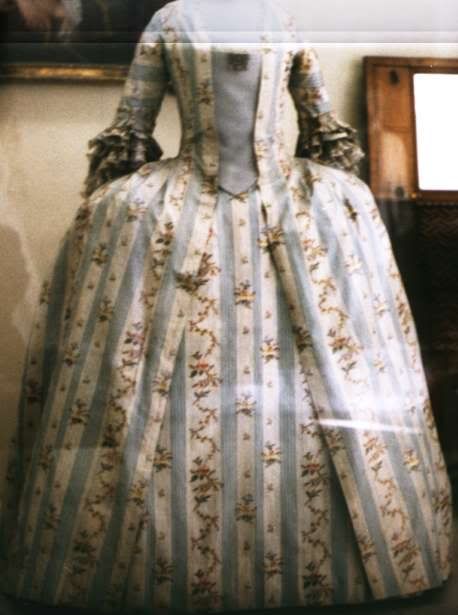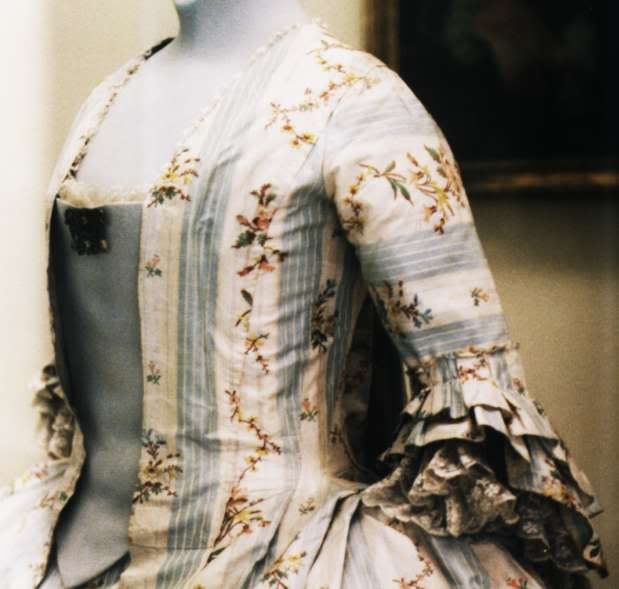 Wonderful light blue and white striped silk brocade gown with its stomacher yay, this lovely dress is from around 1770-73.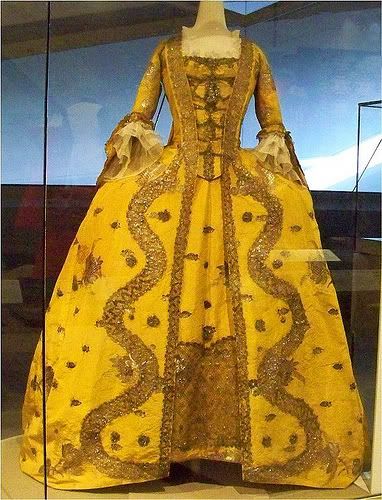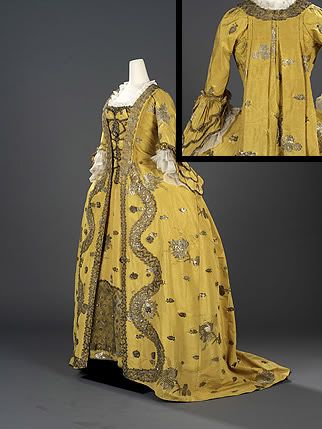 Lovely yellow silk with gold embroidery designs and gold lace and yep that's real gold they used real gold and silver thread in the embroidery and lace back then, ah what loveliness and it makes you so think of spring time! :) The dress is from around 1760-70.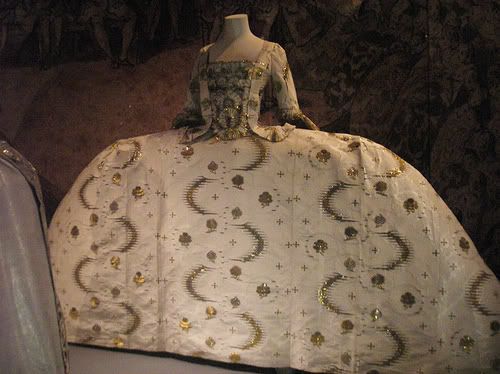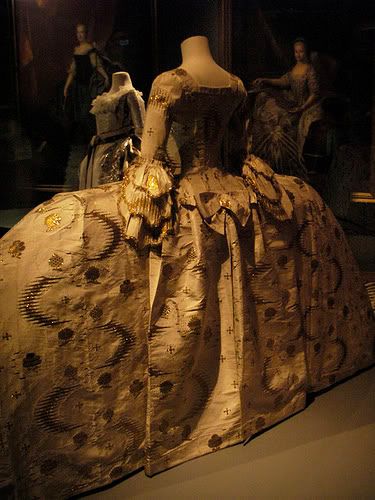 Wonderful cream colored heavy silk gown with lots of gold embroidery and fine gold lace it has a huge panniers some of them would reach epic width and made it hard for ladies to get through doors or in there carriages, but ah what a gorgeous dress its worth it I think to have a dress this lovely :) This dress is from around 1740-50.
Lovely pink silk gown with brocade silk trim and lots of lace this gown just screams spring time to me, this lovely dress is from around 1770-80.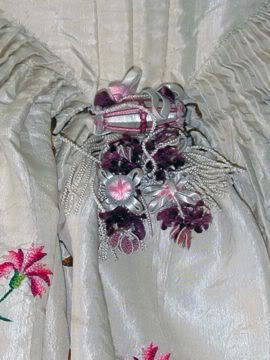 Beautiful cream colored silk with embroidered flowers this dress is just so lovely from around 1770-74.
Now a few paintings from the 1700's.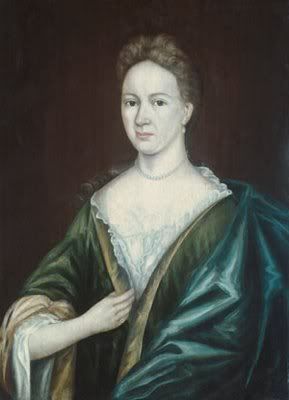 Painting of a lady painted 1700 in a lose fitting dress of green silk, this dress is very reminiscent of the late 1600's.
Painting of Madame Pompadour in a lovely pink silk gown with lots of lace and tons of ribbons on her stomacher, this dress is just as beautiful as her, dress is from around 1750-55.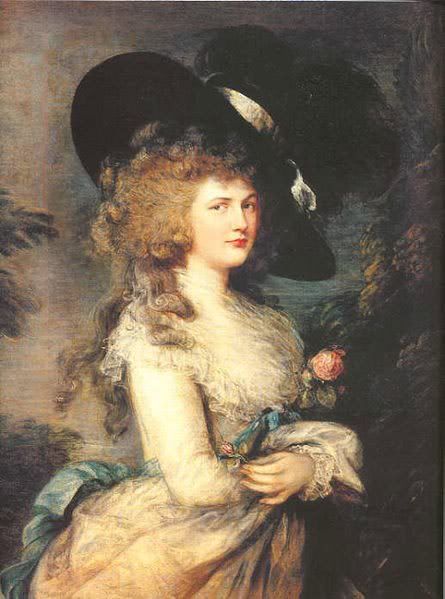 Painting of Georgina duchess of Devonshire in a lovely white muslin dress with lots of lace that she designed herself and that wonderful picture hat you just have to love it :) dress is from around 1780-85.
I wanted to post more but it would have taken forever, but I do intend to make another spring time post about 1800's fashion up to 1920.